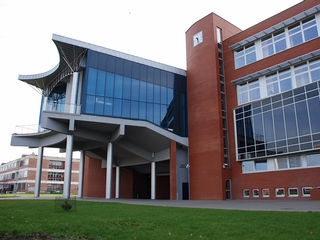 Building of Faculty of Electrical Engineering
XXIII International Conference
on Electromagnetic Disturbances
9 – 11 September, 2015, Białystok, Poland
Old city hall, Białystok
Organized by
Cooperating
Supported by
Technical Program Committee
Honorary Co-Chairs
C. Mazzetti
University of Rome "La Sapienza", Italy
Z. Flisowski
Warsaw University of Technology, Poland
Chairman
K. Aniserowicz
Białystok University of Technology, Poland
Members
G. G. Czawka
Białystok University of Technology, Poland
Z. Dmochowski †
Honorary Member, Poland
A. Dosinas
Kaunas University of Technology, Lithuania
A. P. Duffy
De Montfort University, United Kingdom
O. Fujiwara
Nagoya Institute of Technology, Japan
Y. P. Grishin
Białystok University of Technology, Poland
B. Jaekel
Siemens AG, Germany
L. Karpiński
Rzeszów University of Technology, Poland
A. Karwowski
Silesian University of Technology, Poland
A. Krawczyk
Częstochowa University of Technology, Poland
M. Lehtonen
Helsinki University of Technology, Finland
M. Łoboda
Warsaw University of Technology, Poland
K. Maceika
Vilnius Gediminas Technical University, Lithuania
L. A. Markevičius
Kaunas University of Technology, Lithuania
G. Masłowski
Rzeszów University of Technology, Poland
A. Morkvėnas
Kaunas University of Technology, Lithuania
I. Palu
Tallinn University of Technology, Estonia
V. Paškevičius
Lithuanian Electricity Association, Lithuania
R. Rinkevičienė
Vilnius Gediminas Technical University, Lithuania
A. Sauhats
Riga Technical University, Latvia
M. Valdma
Tallinn University of Technology, Estonia
J. Vanagas
Kaunas University of Technology, Lithuania
S. Visacro
Federal University of Minas Gerais, Brasil
T. W. Więckowski
Wrocław University of Technology, Poland
Organizing Committee
Chairman
R. Markowska
Białystok University of Technology, Poland
Secretary
J. Wiater
Białystok University of Technology, Poland
Members
G. Gilewska
Białystok University of Technology, Poland
K. Konopko
Białystok University of Technology, Poland
G. Kraszewski
Białystok University of Technology, Poland
H. Kruk
Białystok University of Technology, Poland
A. Nikołajew
Białystok University of Technology, Poland
A. Wiktorko
Białystok University of Technology, Poland
The EMD'2015 Conference is a continuation of the series of symposia concer­ning Overvoltages in Power Electro­nics and Computer Systems, which were started in 1990. Since then these conferences took place in Białystok and Hołny Mejera (Poland), Vilnius, Kaunas, Dubingiai and Palanga (Lithuania).
XXIII International Conference on Electromagnetic Disturbances will be held in Bialystok on 9 - 11 September 2015, in the building of Faculty of Electrical Engineering of Bialystok University of Technology.
Protection against electromagnetic disturbances, which may cause malfunction, failure, or permanent degradation of electronic and electric devices or systems is critical, especially from cost-effective perspective. This fact as well as the evolution of electronic technology caused impetuous necessity for extension of the EMD conference scope with several new topics.
The aim of the EMD Conference is to create a forum for presentation and discussion concerning sources of electro­magnetic disturbances, their influence on electronic devices and systems, and protection against them.
Main Topics
Sources of electromagnetic disturbances
EMD emission and susceptibility
Measurements and simulation of disturbances
EMD in wire and radio communication
EMD in power systems, power quality
Disturbances in electronic equipment
EMD in control and measurement systems
High voltage equipment reliability at EMD
Lightning and overvoltage protection
EMD standards and testing
Grounding and equipotential bonding
Shielding techniques
System design for EMD protection
Problems of protection against EMD
EMD education
Intended EMD
Health effects of electromagnetic fields
Official Language
The conference language is English.
Schedule
Note: The summary submission deadline has been extended.
April 15

May 4, 2015 – Submission of summaries and registration forms

April 30

May 18, 2015 – Notification of acceptance
June 10, 2015 – Submission of full text manuscripts
June 30, 2015 – Payment of registration fee
July 31, 2015 – Preliminary program
September 9-11, 2015 – Conference
For those who pay the registration fee after 30th June we cannot guarantee your papers will be printed in the conference proceedings. The deadline is due to the summer holidays (July and August in Poland).
Registration
Persons planning to attend the conference are asked to complete the online registration form and submit it to the EMD Organizing Committee.
Submission of Papers
Researchers and engineers willing to attend the EMD conference are invited to submit papers on the current state of electromagnetic disturbances, particularly in the areas listed above. Only original works will be considered. Prospective author should also submit a 400 – 500 words summary, that clearly explains her/his work, its originality and relevance to the electromagnetic disturbances discipline.
The author will receive an email with notification of the summary acceptance along with Secondary Announcement.
All contributions (summaries as well as full papers) should be emailed to emd2015@we.pb.edu.pl.
Manuscript Template
The full text manuscript should not exceed 4 pages. Use the provided document template for Microsoft Word, which is based on the IEEE Manuscript Templates for Conference Proceedings.
Information for Authors
The papers presented at EMD 2015 conference will further be considered by the Technical Program Committee for additional review and eventual publication in Polish journal Przegląd Elektrotechniczny (Electro­techni­cal Review). However, only selected papers will be recommended by the Committee for publication. Please note that the conference fee does not include the cost of publication in the journal. The authors of papers selected for publication in the journal will be asked directly by the editor to make the payments according to the obligatory current rates (about 150 PLN per page printed in black and white, and 200 PLN per page printed in color).
Registration Fee
The conference registration fee is 200 EUR. It includes attendance to the conference sessions, the conference proceedings, represen­tative fees, lunches, coffee and snacks at breaks, dinners and social program.
The parti­ci­pants are requested to pay the conference fee exclu­sively by a bank transfer before June 30, 2015.
Details for payment in Euros:
Account holder name and address:

Name and address of the bank:

SWIFT code:
IBAN code:
Reference:

Bialystok University of Technology
Wiejska 45 A, 15-351 Bialystok, POLAND
Bank PEKAO SA I/O Bialystok
Sienkiewicza 40, 15-092 Bialystok, POLAND
PKOPPLPW
PL 40 1240 1154 1978 0010 1668 9197
EMD 2015, name of participant
Details for payment in PLN (Polish zloty):
Participants from Poland may pay the registration fee in PLN at the average exchange rate of the EUR on the day preceding the payment. The account holder and bank are the same as above.
Bank account (for PLN):
30 1240 1154 1111 0000 2148 7604
Hotel Accommodations
Variety of accommodations may be reserved by the conference participants in hotels of different categories. Details on available hotel accommodation are easily accessible in the Internet (Booking.com). A simplified map of the city center is here.
Note: Accommodation costs are not included in the registration fee. Any such costs should be paid by the participant directly at the hotel.
The public transportation in Bialystok is via buses. It is also possible to take a walk, if fine weather. The Faculty of Electrical Engineering is at a distance of maximum 30 minutes on foot from most of the city hotels.
For more information please contact the secretariat of EMD'2015:
Białystok University of Technology
Faculty of Electrical Engineering
EMD'2015
ul. Wiejska 45D
15-351 Białystok
Poland
e-mail:
emd2015@we.pb.edu.pl
, phone: (+48 85) 746 93 56, (+48 85) 746 94 44, fax: (+48 85) 746 94 00.
Webpage design:
Grzegorz Kraszewski
. This document conforms to HTML 4.01 Strict and CSS standards. Photos: Andrzej Holiczer (faculty building), Adam Wiktorko (old city hall).